Good evening. This is a reminder that Friday, October 15, is a PL or Professional Learning day for employees. This is a non-instructional day for students. Students will return to school on Monday, October 18. Thank you and have a wonderful evening.

Good afternoon. This is a reminder that Monday, October 4, 2021, is a Professional Development day for for all WCS employees. Students will return to school on Tuesday, October 5, 2021. Have a wonderful evening.

Please click on the following link to view a message from the WCS Superintendent.
https://5il.co/ztm0
FREE drive through Covid-19 Testing at the Lincoln facility: When: Tuesdays and Thursdays, 10am-2pm and Saturdays, 10am-5pm Where: Beside VanDevender Middle School in the Lincoln facility parking lot How: Use the QR code to register online or complete paperwork upon arrival.

Criss Elementary has just been named a 2021 National Blue Ribbon School. Congrats to the entire school family at Criss for being 1 out of 325 schools across our nation to receive such a prestigious award!!! Congratulations!!! To read more, please visit
https://www.woodcountyschoolswv.com/article/541063

Tonight, the Wood County Board of Education voted to require face coverings for all students and staff while indoors and on buses beginning tomorrow, August 31, 2021. Please read the article and guidelines at
https://tinyurl.com/ye3dqy72
Covid-19 vaccine clinics: Each Thursday from 1pm to 5pm Covid-19 walk-in vaccine clinics will be held for anyone 12 and over. Lincoln is located beside VanDevender Middle School. Please enter through the green door #1. Clinics will continue through the fall as vaccine is available.
IMPORTANT message to all parents and guardians: Please do not send your student to school with symptoms of illness. Contact your school nurse to discuss even mild symptoms BEFORE sending to school. If you take your child for Covid-19 testing, please keep them home until ALL (both rapid and PCR) test results have been received and are negative. We must all work together to keep our schools healthy places to learn! Thank you!

Update 8-20-21-Buses are running a little behind due to paving projects throughout the county.

Good evening. Tomorrow brings much anticipation with the start of a new school year. I am so excited to see our students and employees back in our buildings as we work together to become the # 1 school district in the state of West Virginia. We are so fortunate to have a wonderful community of parents and guardians that understand the importance of a first-class education and are willing to go above and beyond to ensure the success of our students and schools. However, we know there is a lot of work to complete. This summer, WCS has equipped schools with essential personnel for targeted intervention, created a STEAM Academy for middle school students, and continued to upgrade our facilities to provide the most conducive environments possible in our schools. We are very excited to see the new school year begin. I encourage each of you to review our re-entry guidance document located on our webpage at
https://tinyurl.com/yhq2qwgb
. As you know, directives can change quickly with little notice. I will do my best to communicate changes to you as directives are received. I encourage all parents and students to follow the recommendations in the guidance document including, but not limited to - wearing a mask, staying socially distanced, and practicing good, hand-washing hygiene. As always, I ask for your patience on the first day of school. There are many moving parts that we will continually perfect throughout the year. Once again, thank you for your support and encouragement as we start another exciting school year. Thank you for all you do and have a wonderful evening.

Good Evening,  I hope everyone had a wonderful, relaxing summer and is ready for a great school year to begin.  Over the summer, Wood County Schools has been busy  -  Our employees have not stopped.  They have completed multiple construction projects, served over 1600 students in our summer school programs, completed building preparation tasks for the upcoming school year, and have continued to step up to every challenge they have faced.  Also, every parent and guardian deserves a huge Thank you - for the patience, perseverance, and support you have provided Wood County Schools during these unprecedented times.  Thank you!  
 Today, I released a Draft version of our re-entry and guidance document for families and schools to follow.  One thing we have learned throughout the past 18 months- keep it simple. Last year, our school community was inundated with multiple plans, guidelines, and directives from multiple sources, which created uncertainty.  This year, we have taken the WVDE guidance and re-entry document and made additions that apply to our school system.   However, as you know, things can change quickly with mandates and directives I may receive.  We will have to be ready to pivot once again, but the main goal is to keep students and teachers face to face in our schools.  
 Once again, our Draft re-entry document is located on the Wood County Schools website.  As of now, face coverings for students and staff are optional but highly recommended as indicated in the document.  If something would change due to an executive order, mandate, or directive, you will be notified immediately.   Thank you and have a wonderful evening.

WCS principals are collaborating and learning about new tools to assist them in engaging with their school communities.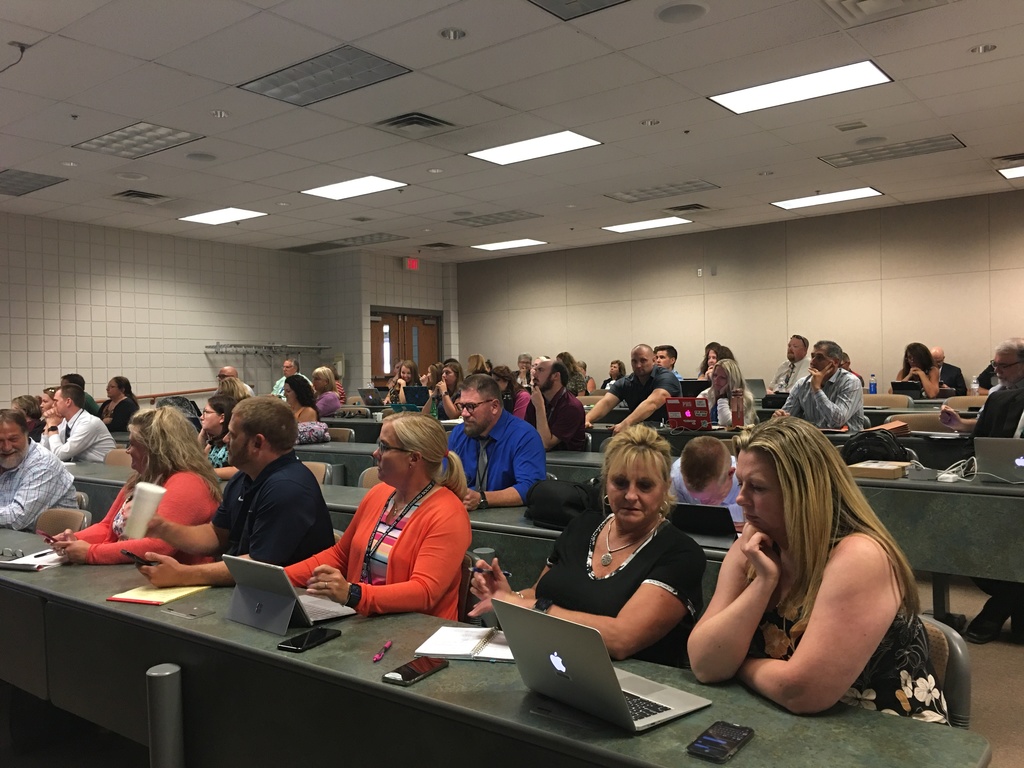 COVID-19 Vaccines (Pfizer) will be administered at the Lincoln facility beside VanDevender Middle School on August 3, 5, 10, and 12 from 9am-12pm and 1pm-4pm to anyone 12 years old and older. The clinics are walk-in, NO appointment is necessary. Anyone under 18 must be accompanied by parent/ guardian.


A huge congratulations to Deidra Burdette, custodian at Greenmont Elementary School, as one of 10 finalists for West Virginia School Service Personnel of the Year. For more information about the West Virginia Service Personnel of the Year, please visit
https://wvde.us/service-personnel-of-the-year/
.
CORRECTION to earlier post: PARKERSBURG SOUTH School-based Health Center (RRHC) Immunization Clinic for required immunizations for school entry: Thursday, August 12th and Wednesday, August 18th. Appts appreciated, 8am-4pm. Contact 304-699-0809 JEFFERSON School-based Health Center (RRHC) Immunization Clinic for required immunizations for school entry: Tuesday, August 10th and Wednesday, August 18th, 8am- 4pm. Appts appreciated. Contact 304-699-0506. There are no sports physical clinics scheduled at this time.
The PSHS School-based Health Center (RRHC) will be conducting SPORTS PHYSICALS on Thursday, August 12th and Wednesday, August 18th from 8am- 4pm. Appointments are appreciated. Contact # 304-699-0809. The Jefferson School-based Health Center (RRHC) will be conducting a clinic for required IMMUNIZATIONS for school entry on Tuesday, August 12th between 8am-4pm. Contact # 304-699-0506.

Good evening. We invite you to contribute to our ARP/ESSER plan by providing input to the ideas generated in spending funds provided by the American Rescue Plan Elementary and Secondary Schools Emergency Relief (ARP ESSER), targeting K-12 education. Your input will guide our plan to meet the needs of our students, staff, and community which will be presented to the West Virginia Dept. of Education on July 19. Your input is vitally important. To provide input, please click the following link or visit our website. Thank you.
https://tinyurl.com/yfs5cvgh


Once again, a huge congratulations to Nick Murphy, recent graduate of Parkersburg South High School for being selected as 1 out of 161 seniors throughout the nation to receive the U.S. Presidential Scholar award. To view the WVDE press release, please click the following link.
https://tinyurl.com/yh7elrzk